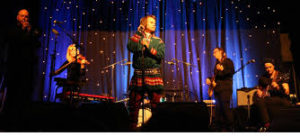 Bio Norden
Right beside Hotel Akerlund there is a beautiful, old cinema which today serves as a stage for a range of different arrangements and events. There are approximately 200 seats, and the stage is well-suited for stageplays, concerts, musical shows, speakers, educations and presentations – and the building is almost a century old. The long history can almost be sensed when you enter the building. It is truly an inspiring place, no matter what kind of event it hosts.
Bio Norden can be booked in combination with dinners at Restaurant Akerlund, as well as accommodation at the hotel.
Bio Norden has the basic technology needed for meetings. As a thatre stage, it is classified by the Swedish National Theatre as a yellow stage, having a 3,5 x 8,5 meter stage area and 3,7 meters of headroom. The backstage area has two changing rooms with WC and showers.
For more information about the stage and floor plan, see scenrum.nu.